FD HAB 70 Security door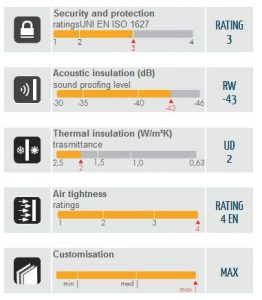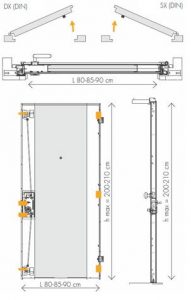 Structure external electro-zinc coated steel skin, 13/10 and core material for extra rigidity and strength.
Frame (25/10) powder coated finish (standard colours: RAL 9006). Fixed to the subframe with M10 steel screws at 8 points.
Subframe "Blitz" in zinc coated steel (15/10). Fixed at 16 points, adjustable in 2 directions.
Bolts and locks 4 bolts + 2 anti-cut bolts.
Hinges (2) in steel, self-lubricating, with ball bearing mechanism, can be set in 3 directions with variable pressure on seals (Comprex System).
Fixed bolts (3) in steel, with flat-serrated profile, high tear resistance.
Security lock easy action geared mechanism, activating six bolts with self-centring rectangular latch bolt.
Defender in special steel, rating 3 anti-pick.
European Cylinder, certified rating 2.
Keys 1(master) + 3 (final) with patented anti-duplication profiles.
Special doorstrip high performance.
Thermal and acoustic insulation in high density mineral wool.
1 seal in expanded material on frame.
Swiss-style weather threshold – thermal break for maximum air tightness.
Customisation and aesthetics
Panel finish in 9mm veneer (standard): melamine coating, Tanganyika (light and dark), cherry, white lacquer, with polythene protective film.
Door furniture Hoppe, in aluminium, as standard.
Wide angle spy hole as with door furniture.
Optional
Swiss-style threshold, Security retainer, Satin chrome finish door furniture, Hinge covers, External casing strips, Internal casing strips, Master keyed, Key/key cylinder, Futura kit designed for use with remote control.
Standard dimensions: 80-85-90 x 200-210 cm.
Door dimensions